Jared Leto only ever saw his father once.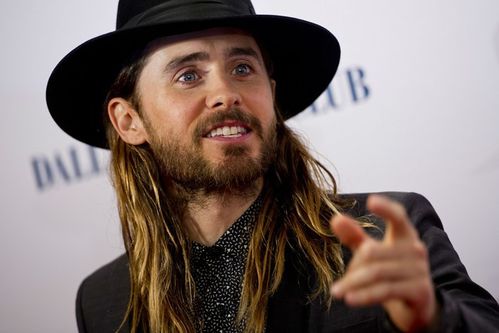 The 42-year-old actor has been open about the huge effect his mother Constance had on him, taking her to the Academy Awards this year where he was crowned best supporting actor for his role in Dallas Buyers Club.
It was known that Jared's father walked out on the family soon after he was born, then remarried before committing suicide when the star was eight. But now the actor-and-musician has opened up about him more. The moment came during a talk he was giving at the Cannes Lions advertising festival, with Jared poking fun at an audience member who walked out part way through.
"Take care, see you bro. That's my dad. It's the first time I've seen him actually," he joked.


"It's the second time, actually, the first time was when he just flicked a cigarette and said, 'I'll see you kid, just going to the store to get a carton of milk,' and never came back. P***k."
Jared was on fine form during his discussion about technology and advertising, kicking things off by asking two women up on stage to take a selfie with him.
He also spoke about women's rights, admitting he can't help feeling an affinity with females. That's not just because he's so close to his mother, but also because he portrayed transgender Rayon in Dallas Buyers Club. He dressed in full drag for the role, famously staying in character during the shoot.
"It would be nice if I did have the right to speak on behalf of women. I've worn the heels, I've put on the tights and everything else, so I feel your pain ladies," he said.
"As some of you may know if you saw the Oscars, I was raised by a wonderful single mom. So I'm all for women being in positions where they can actually participate and have real authority to change the world that we live in."
Cover Showbiz